Since September 2020, the Jan Amos Comenius Primary School in Sered in cooperation with three universities in Slovakia, the Czech Republic and Poland, with primary schools in the Czech Republic, Poland and a with well-known publishing house in Slovakia, have started cooperation on the international project LIRE (Language Interpretation through REading).
The goal of the project was to strengthen the teacher's professional profile through a combination of different forms and to help change the teaching of a foreign language through extensive reading into an exciting adventure for students.
• SENEC DISSEMINATION CONFERENCE
The project partners presented the project outputs at the LIRE dissemination conference (part of the Teacher is not Google conference), which took place on June 9-10 in Senec, Slovakia. University partners offered their lectures on 9 June and primary schools provided workshops on 10 June 2022.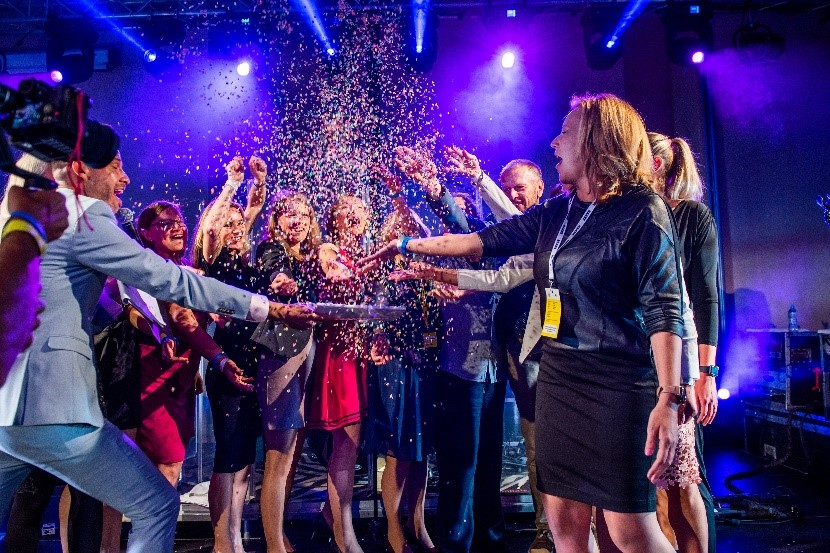 Eva Skočíková and Anna Lallouet led workshops focused on working with simplified reading books in teaching English. Michaela Sepešiová, Pavla Buchtová, Miloš Blahút and Anna Domińska (on behalf of Paweł Scheffler) presented the LIRE project and provided information about the benefits of reading in and outside the classroom. All teachers were warmly welcomed. We presented the project to the conference participants, including the project's website.
• JOINT TRAINING OF THE EMPLOYEES IN POZNAŃ
The partners planned and organized the Joint Staff Training, which took place in Poznań, Poland, from March 14 to 18, 2022.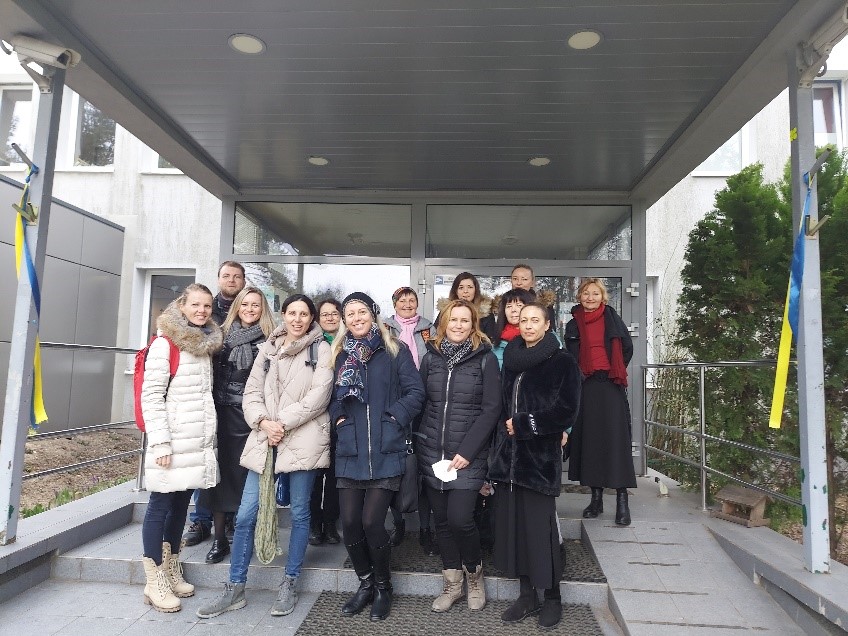 This week has greatly contributed to our professional development. At the Polish elementary school, we could see different teaching methods and approaches during job shadowing/observation. We also looked at new teaching trends at workshops provided by the university partners. In addition, we shared experience from our schools, and on the last day, Czech and Slovak colleagues taught Polish children to gain further experience.
about the LIRE project was broadcast on June 21, 2022 at 5:00 p.m. Michaela Sepešiová presented the importance of extended reading in the English language and provided practical examples of how to work with simplified reading books with pupils and students of different age groups at school and at home.
OTHER ACTIVITIES
• One of the opportunities to promote the project to teachers took place on May 2, 2022 in the regional library in Kroměříž in the Czech Republic, where Pavla Buchtová and Lucie Podroužková were invited to talk to the teachers of the local school. The seminar, named Reading in English as a tool for sustainable education, focused on programs and methods of extended reading and included concepts, tips and activities from the Toolkit and the LIRE platform.
• The theoretical part of Toolkit LIRE O1 was translated from English into Slovak, Czech and Polish.
• LIRE O2 output – our modifications in O2 generally continued and in April we finished the O2 testing report. In general, teachers were satisfied with the content. The comments were of a technical nature. The practical workshops for teacher education providers have been modified, adapted according to the comments of the partners, and finalized in August 2022. The project partners will yet provide final feedback regarding the structure, appearance and functionality.
• The O3 LIRE Online platform has been completed as a source of materials that can be used as a supplement to practical workshops or as a stand-alone interactive course. It was made in 4 language versions, in Slovak, Czech, Polish and English. This platform will be verified and tested by all project partners in the next month.
• FINAL APPEARANCE OF THE ENTIRE LIRE PLATFORM
The Platform for Teacher Education Providers (O3) has been completed and is ready for evaluation. It allows teachers to actively engage in experiential learning through extended reading.
In addition to the standard functions, the content of the LIRE website is divided into two main parts.
1. O1 Theory, lesson plans, simplified reading books, other activities and appendices for practical use in the classroom
2. The O3 platform – this contains three blocks:
A. LIRE PRACTICAL Workshops (O2)
They were created by partner teams:
— Adam Mickiewicz University presents basic concepts: extended (extensive) reading, its advantages, limitations and general recommendations for creating comprehensive reading programs.
– Masaryk University dealt with the basic elements and organization of any extensive reading program: selection of reading material, creation of a classroom library, reading strategies, monitoring and evaluation.
– The University of Prešov focused on the combination of extended reading with the development of language skills and subsystems, and on the ways in which extended reading can support CLIL and the development of reading strategies for pupils with special educational needs.
Each part of the course is followed by a short test through which you can test your mastery of the study material.
B. PARENTS' CORNER – Parents can create a positive environment for children, so that reading becomes an unforgettable fun experience for them. This block contains some useful information for parents on how to support their children's reading at home.
C. EXTRA ACTIVITIES FOR STUDENTS – – the block contains a few useful activities for students in addition to each reading book used in the project.
We hope that the outputs of the project will promote widespread reading among teachers and create a practical and user-friendly tool for their active use.
Where can you find us?
You can find out more about the LIRE project and what is happening right now on our official website and on our Facebook profile.